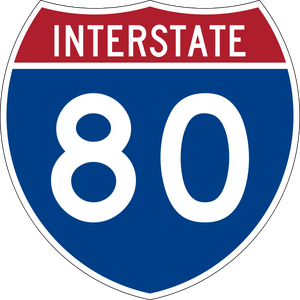 Interstate 80 is a 4666.36 kilometer long (2899.54 mile) major east-west interstate highway going from US-101 in San Francisco, CA to I-95 west of Linwood, NJ. Interstate 80 also goes by Sacramento, CA; Reno, NV; Salt Lake City, UT; Cheyenne, WY; Lincoln, NE; Omaha, NE; Des Moines, IA; Iowa City, IA; Davenport, IA; Chicago, IL; South Bend, IN; Toledo, OH; Youngstown, OH; and going below Scranton, PA. It is the second-longest Interstate freeway in the United States.
Route Description
Edit
It is recognized as a Blue Star Memorial Highway for its entire length. The western section of it is called the Dwight
California Edit
Starting at US-101, I-80 passes by San Francisco, CA. It has interchanges with 7th Street, 5th Street, 4th Street, Harrison Street, The Embarcadero, and Fremont Street. Heading eastbound, the San Francisco-Oakland Bay Bridge comes. Exit 4A/4B will take you to Yerba Buena Island and Treasure Island. There is an interchange where I-80, I-580 and I-880 intersect. I-80 and I-580 form a concurrency (or overlap) from Emeryville, CA to Albany, CA. Moving on, I-80 intersects with CA-4 in Hercules. Then, I-80 intersects with Interstate 780 in Vallejo. Then, it intersects with I-680 in Cordelia. After, I-80 comes across I-505 in Vacaville. It also intersects with CA-113 in Davis. It crosses I-5 in Sacramento, California's capital. It intersects with CA-65. It crosses through the Sierra Nevada, too!
Section heading
Edit
Write the second section of your page here. Do not forget to add a category, to help people find the page.