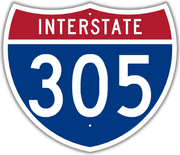 Interstate 305 is a a interstate highway that runs through east-west in california, its a spur of I-5, the highway opened in 2012, the highway is owned by Villarruel Department of Transporation, AlanCo, and Villarruel Highways, its one of the 4 main highways in the west valley alongside I-705, US 101, and SR 299.
Ad blocker interference detected!
Wikia is a free-to-use site that makes money from advertising. We have a modified experience for viewers using ad blockers

Wikia is not accessible if you've made further modifications. Remove the custom ad blocker rule(s) and the page will load as expected.