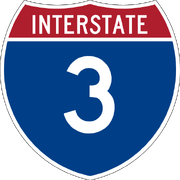 Interstate 3 is the second main interstate highway in the west coast, the main in the bay area, and the north coast, it was bulit in 2012, most of the highway is co-signed with us route 101 and some with interstate 5, it goes from Tijuana, Mexico to Vancover, Canada, and in the united states it passes through many interstates like 5, 80, 10, 15, and 40, its the first one lane interstate highway.
Intercharges
Edit
I-5 in Seattle
I-80 in San Francisco
I-5 in Los Angeles
I-10 in Los Angeles
I-15 in Riverside
I-40 in Needles
Ad blocker interference detected!
Wikia is a free-to-use site that makes money from advertising. We have a modified experience for viewers using ad blockers

Wikia is not accessible if you've made further modifications. Remove the custom ad blocker rule(s) and the page will load as expected.