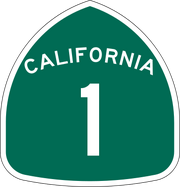 California State Route 1 runs from the oregon-califronia Border, to the Mexico-U.S Border in San Diego, California from Oregon to Eureka, Califronia its shares it highway U.S. 101, then again from Eureka, California to Ferndale, California its shares with US 101, then at SF Golden Gate Bridge, it shares with US 101 again, then from San Luis Opisbo, California, to Ventura, Califronia it shares with US 101, then from Dana Point, California to Mexico it shares with I-5. Somewhere in the Santa Barbara county, the freeway merges with CA-135 and then splits to their own freeway, in southbound, left lanes lead to CA-135 to Los Alamos and right lanes lead to Vandenberg AFB and lompoc. The old road to Lompoc used to be in Harris Grade Road and then in 1988, The road was changed to the former Country Route 20 to serve Vandenberg Air Force Base. The north bound south of Orcutt is similar to the merge north west of Los Alamos but the left lanes lead to Guadalupe and Right ones lead to Orcutt and Santa Maria.
For a gallery of the numbered state route of California. See California State Route 1/Gallery
Ad blocker interference detected!
Wikia is a free-to-use site that makes money from advertising. We have a modified experience for viewers using ad blockers

Wikia is not accessible if you've made further modifications. Remove the custom ad blocker rule(s) and the page will load as expected.